04 Mar

What has MAC been up to lately?

Greetings, friends and followers of MAC! Kirsten and Sarah here, MAC's Co-Chairs for 2021-2023. As we near the one-year anniversary of our term, we wanted to take a moment to introduce ourselves and to offer some transparency on what we've been up to so far.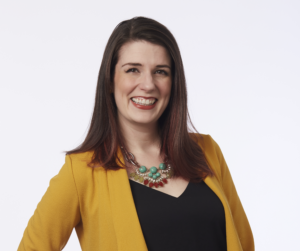 Sarah Kenny (she/her) is a chronically ill/disabled educator, access advocate, and theatre-maker based in NYC. Currently, Sarah is the Senior Manager of Education, Access, & Inclusion for Disney Theatrical Group. Sarah joined MAC in 2020 after enjoying and benefiting from multiple MAC events in the past. Sarah is currently pursuing a Master's in Disability Studies from CUNY School of Professional Studies.
Kirsten Sweeney (she/they) joined MAC in 2020 after having multiple great experiences collaborating with MAC's Supporting Transitions team. They are autistic and currently work as the Accessibility & Inclusion Manager at the Cooper Hewitt, Smithsonian Design Museum, although they have previously worked in accessibility for theatre.
WHY DID MAC PAUSE & WHAT DOES THAT MEAN?
During our first year as Steering Committee members, we realized that even though MAC is an organization dedicated to accessibility, we are not immune to ableism and the other ills of the cultural sector. Like many of our fellow cultural organizations, we found ourselves needing to reckon with how anti-racism and anti-ableism showed up, or didn't show up, in our organization's practices and values. We only felt comfortable stepping into a place of leadership if we could really take the time to interrogate our organizational culture and structure. To do that, we paused our non-essential work and spent many months reflecting on who MAC is and who MAC wants to be, and learning how we might achieve that through an equity and anti-oppression lens.
However, we didn't pause all of MAC's work, and we want to celebrate the hard work of our Steering Committee members and our grant project leaders as they kept pushing forward MAC projects while also undergoing this intense period of learning. Our Supporting Transitions team hosted a series of events on Accessible Cultural Employment, launched and completed a new Self Advocate Corps to foster a new generation of consultants with developmental disabilities, and are just now starting up another year of their flagship internship program. Through our Foundations of Inclusion and Accessibility project, three different NYC cultural organizations have received training and personalized support on their individual accessibility journeys. Throughout this hugely transformative time, our Steering Committee has worked tirelessly to uphold MAC's mission and to continue to support the NYC cultural community in becoming a more accessible place.
WHAT WE DID
Our original plan for the pause involved three months of learning and discovery followed by a full group retreat, and then two more months of ideation and planning based on what we had learned. It took less than one month for the main lesson of this whole experience to become clear to us: this work takes time. The discussions that we planned for our Steering Committee meetings often ended up taking two or more sessions than intended because of how dedicated the group was to engaging with and diving deep into complex topics. Given our volunteer-led structure and monthly meeting schedule, we quickly realized that our planned six-month timeline would not be sufficient.
We made the conscious decision to let the work take the time it needed. If we were really going to make MAC a more equitable organization, we wanted to do it with deep intention. Our original plan for a three-month pre-retreat period turned into a full six months; during that time, we:
Implemented community conversations: In response to MAC Steering Committee members expressing a desire for more connection to the group in the virtual space, we implemented community conversations at the start of each Steering Committee meeting. This addition has served as a great reminder that we are a community of people, and taking five minutes each meeting to get to know our community a little better has been so beneficial to our work.
Developed community agreements: One of our first tasks as a Steering Committee was creating a set of community agreements. We collaboratively generated a list of agreements that can be summarized in this sentence: "MAC believes in centering access and disability culture, communicating expectations, facilitating feedback loops, and giving space for everyone's ideas." Because accountability is important, we also developed thorough guidelines for addressing potential grievances or violations of these agreements.
Discussed how ableism manifests in our industries & in MAC: Over the course of several meetings, we dove deep into various writings on and definitions of ableism, as well as explored the various models of disability. We looked inward and got specific about how ableism impacts and shapes the cultural field, but also MAC specifically.
Explored the kind of organization MAC is & could be: The Steering Committee generated a list of all of MAC's current and past activities and started to identify what we wanted to prioritize in the future. We used the Management Center's "Preference, Tradition, Requirement" framework to expand our thinking beyond just doing things because they've always been done.
After several months of rich discussion and internal work, we felt like we were reaching the end of what we could accomplish on our own. We needed to dive into some more challenging conversations about anti-ableism and anti-racism and how they show up at MAC, and it was crucial that our Steering Committee have the support of an experienced facilitator for those topics. In December, we engaged in a virtual retreat involving two learning sessions on the Intersection of Race & Disability facilitated by the wonderful Sofiya Cheyenne, and two reflection sessions just for the Steering Committee to allow us to continue the conversation and consider the applications to MAC.
MOVING FORWARD
While reflection and continued learning will always be an active process and part of MAC's culture moving forward, we are preparing to take next steps to put our learnings into practice. To do that well, we know we need support beyond MAC's volunteer Steering Committee. We applied for and were awarded a grant from NYSCA that is allowing us to hire a Strategic Planner, and our learnings also helped us identify a need for establishing an equitable hiring process. A committee is at work at creating a new hiring protocol that we look forward to implementing in all future projects. Finally, we're hopeful that our work with the Strategic Planner will allow us to un-pause our programming in the coming months. We look forward to sharing more of our process with you as it unfurls!