12 Dec

Member Spotlight: Intrepid Sea, Air & Space Museum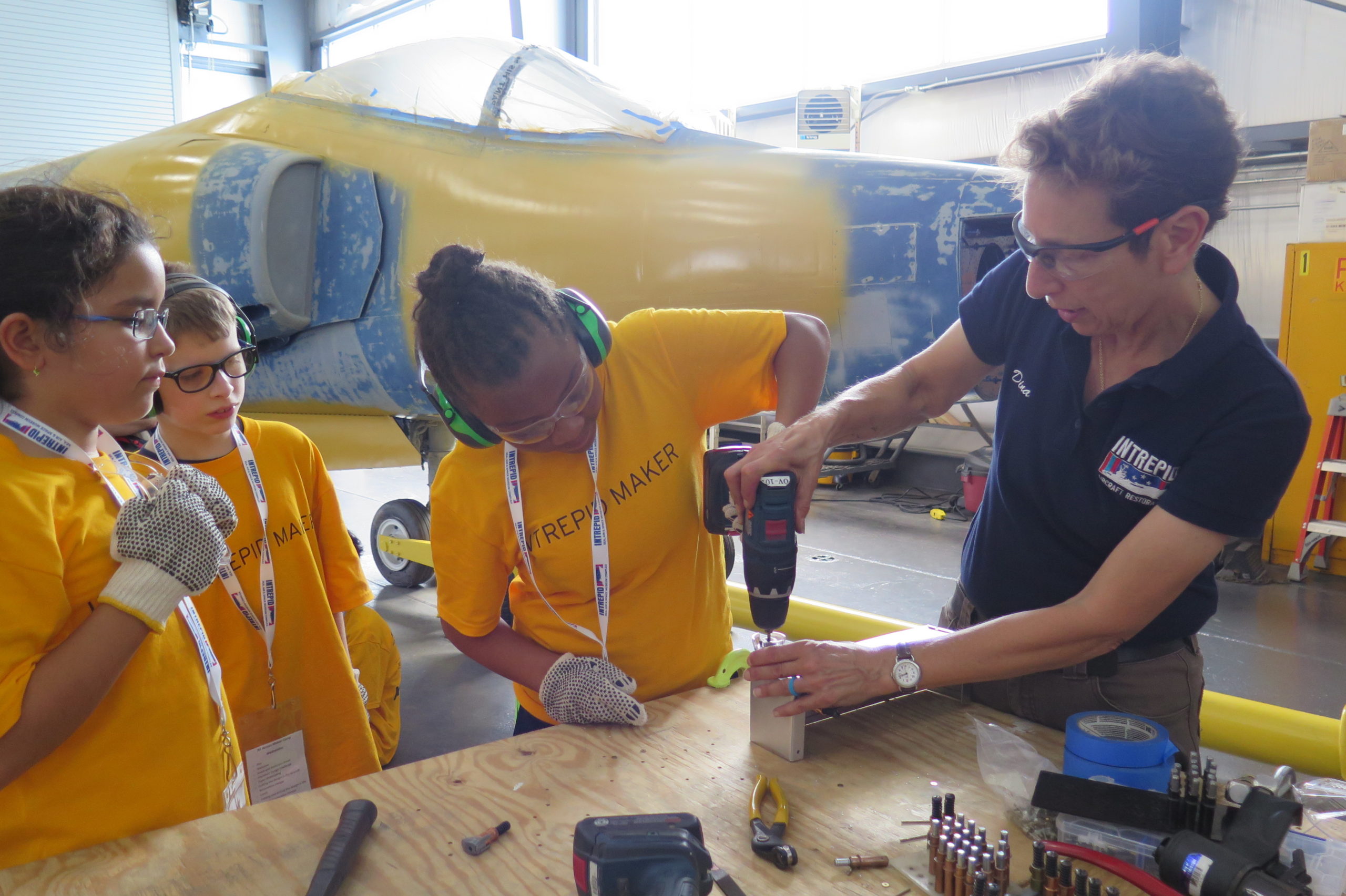 Written by Charlotte Martin, Senior Manager of Access Initiatives
At the Intrepid Sea, Air & Space Museum, we work to ensure that the Museum is physically, emotionally and intellectually accessible to all audiences, and that it fulfills its mission to promote the awareness and understanding of history, science and service for everyone. We embrace the fact that visitors with disabilities reflect not only the diversity of our city, but also the tourists who travel here from around the world. They may seek and benefit from different entry points—from highly structured programs to fully self-guided experiences—and we aim to provide a continuum of opportunities and experiences.
Centered around the former U.S. Navy aircraft carrier Intrepid, which served from 1943 to 1974, and featuring the Cold War submarine Growler, a British Airways Concorde, the space shuttle Enterprise and over 25 aircraft, the Intrepid Museum is immersive and inherently multisensory. We are uniquely situated to connect visitors with history through our exhibits, collections and former crew members who remain actively involved. We also recognize that a ship initially built for combat in World War II presents many potential barriers, including physical limitations and sensory challenges. We employ a range of programming, technology and resources to diminish these barriers and cultivate connections to our content.
Based on ongoing conversations with advisers and user experts, the Intrepid Museum offers a range of highly-structured programs for specific audiences and basic resources available to anyone. For example, in our Early Morning Openings, which we offer for children with autism and their families, we open the Museum an hour early to reduce sensory stimulation and provide a safe, more comfortable learning environment for guided multisensory explorations. However, as members of our Autism Advisory Council (a mix of adult self-advocates and parents of children with autism) pointed out, teens and adults with autism would also benefit from sensory-friendly programming. We quickly learned that early Saturday mornings are, understandably, not the most appealing for this older audience, so we introduced Sensory Friendly Evenings. Similar to Early Morning Openings, we provide a social narrative and visual vocabulary; we also keep areas of the Museum open after normal closing time and include opportunities for guests to handle artifacts and meet former crew members. One such participant wrote us afterward to describe their experience: "I really like how I could ask questions and get to touch and climb in the helicopter. It wasn't too crowded and the paper with the schedule on it was helpful. Thank you."
We also know some families want their kids to have a longer-term experience outside of a school setting, so we created All Access Maker Camp for children with developmental disabilities. This allows us to provide in-depth learning opportunities for campers to practice social-emotional skills, including problem-solving, communication and collaboration. Other families ­feel that they are ready to "graduate" to less structured programs, such as our Access Family Programs, which take place during Museum hours. Individuals and families might also be more interested in exploring on their own or visiting for Fleet Week. In heeding their call and in keeping with the spirit of inclusion, a priority at the Museum, we have worked with colleagues in other departments to develop pre-visit resources, provide sensory bags, better train floor staff and more intentionally build accessibility into exhibits.
This approach extends to other audiences, as well. We offer free customized verbal descriptions and touch tours for visitors who are blind or have low vision, with advance notice, and we also have a Verbal Description and Tactile Guide available for guests to borrow at any time at no cost. The Museum's audio guide is available in American Sign Language (ASL), and we also arrange for free ASL interpretation of public tours and programs. All of our exhibit videos are captioned, and audio components have T-coil compatible audio loops. The Museum also makes available lightweight stools as needed. Please contact access@intrepidmuseum.org for more information.
All of these programs and resources, as well as those designed for school groups and community organizations serving individuals with disabilities and for individuals with dementia and their care partners, are offered for free or at greatly reduced cost. The Intrepid Museum is also proud to be the first museum in New York City to participate in Museums for All, offering free admission for Electronic Benefits Transfer (EBT) cardholders and up to three guests.
All of this is made possible thanks to the close relationships we've built with advisers, from both our Autism Advisory Council and our Council of Veteran Advisers. We communicate extensively with teachers organizing visits for their self-contained classes, so we can best support their goals (academic, behavioral, social-emotional or otherwise) and students' learning. We prototype new interactive exhibits early on and include individuals with disabilities with different backgrounds. Now, in conjunction with the NYU Ability Project, we were recently awarded an Institute of Museum and Library Services national leadership grant to expand the development of accessibility tools to other historic sites.
We hope to see you at the Intrepid Museum soon! Please don't hesitate to reach us at access@intrepidmuseum.org or 646-381-5158.