29 Jun

Meet Our Grants! Foundations of Inclusion and Accessibility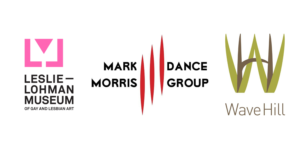 Project Leader: Toni Saia
The Foundations of Inclusion and Accessibility: Building Organizational Capacity in Cultural Institutions grant project, supported by New York Community Trust, prioritizes training, audits, workshops, best practices, and resources to increase accessibility and build capacity within three cultural organizations across NYC — Mark Morris Dance Group, Wave Hill, and Leslie-Lohman Museum. The goal is for organizations to become more accessible physically, attitudinally, and programmatically to ensure disabled people have equal opportunity to participate.
The pandemic has shifted some of the priorities of the grant and has helped organizations find solutions to access issues highlighted by the sudden to switch to the virtual space. For example, at Leslie-Lohman we hired some disabled people to attend virtual programs and share their experiences. The feedback allowed the organization to share successes, areas of improvement within the organization and adjust accordingly. Many disabled people have been hired through the grant to provide expertise, share experiences, and prioritize for concrete changes to take place. For example, disabled web consultants were hired to help make Mark Morris Dance Group's website more accessible, welcoming, and user friendly.
The virtual space has also made it easier for the partnered organizations to connect. We meet once a month as a group to share ideas, resources, barriers, and to explore solutions. During our June meeting, we discussed best practices for access checks and ways to prioritize access for meetings and events. Some examples include:
Setting clear expectations at the beginning of meetings or events.
Sharing how people can participate throughout the meeting or event (i.e. verbally, using chat, raise hand function on Zoom, being clear about when questions can be asked).
Allowing for some flexibility in the agenda in case unexpected issues come up (i.e. captions stop working).
Designate an access person as a point of contact to help mitigate any issues that arise during the event.
Assign a chat moderator to read discussion in the chat.
Recognizing that access is a continuum and not a one size fits all approach, what works for some may not work for others. Provide options when possible.
The next steps for the grant as we move out of crisis mode is to focus on training as a way to increase institutional buy-in, incorporate access practices proactively. and cultivate a space that is not only accessible but welcoming for all. As I look to the future, I am excited to continually center the voices and experiences of disabled folks to help each organization move the conversation from accessibility to equity.