06 Oct

Bringing Self-Advocacy to the Arts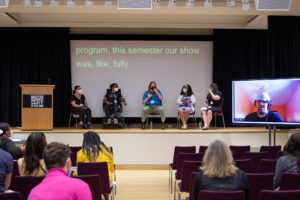 by Aliza Greenberg
Representation matters. We have heard this a lot recently, and it couldn't be more true. But what are we doing about it? How are we ensuring that disabled people are represented in the design, development, and implementation of access programs and in the equity, diversity, inclusion, and access efforts within cultural organizations? MAC's Self-Advocate Corps program started by the Supporting Transitions project addresses these questions.
The Self-Advocate Corps provides a seldom considered employment opportunity for disabled self-advocates: the role of the consultant. The Self-Advocate Corps is a group of disabled self-advocates who identify as either neurodivergent, autistic, or developmentally or intellectually disabled, a group that is vastly underrepresented in the cultural workforce. Consultant work not only provides needed services to cultural organizations, it offers employment that is flexible and customized to fit the skills and interests of the consultant. Consultants should not replace full time and part time employment opportunities, but offer another option.
MAC's Supporting Transitions staff alongside consultant and self-advocate Miranda Lee provide training and mentorship to a small group of self-advocates interested in learning more about consulting for cultural organizations. As Saim Sarwar, one of the corps members shared, "We learned a lot about self advocacy, what makes us self advocates…why it's important for cultural organizations to hire self advocates, how self advocates can improve accessibility." The training is tailored to the interests of the corps members and what the areas in which they want to learn and develop. Mikaila Alacoque appreciated the focus on managing the financial aspect of consulting, "It allowed me to better understand myself better and my fellow members, because I felt more in depth with them and how they felt in this world. And it also allowed me to understand more about the essential assets and tools with my financial life because I didn't really understand that there were so many forms for taxes, and payments." Shmuel Taurog said of the individualized nature of the curriculum, "I liked that it understood that each individual has their strengths and things that they are working on."
After the training, Corps members are coached through their first consulting jobs. Corps members learn how they are uniquely positioned to contribute to the advancement of disabled people in the cultural field. Saim said, "In terms of consulting I'd really like to help with compliance, help maintain compliance, actually improve compliance. I'd like to find new ways for employers to make things accessible and not that costly, because I think there are a lot of ways to make places accessible…I think I speak on behalf of a lot of disabled people, we don't want to burn a hole through a pocket we just want to have our needs met." The Corps creates a place where members can learn how to harness their unique perspectives and skills to improve cultural accessibility. Mikaila shared, "I joined the Self Advocate Corps in order to represent myself as a neurodiverse woman along with the other members, to speak out our own voices. I want to prove… to prove that I'm capable of understanding myself more in depth than others perceive me as."
This fall 2022, MAC welcomed four new Corps members. We hope organizations will hire disabled consultants to make their institutions places where disabled people are represented, are valued, and are leaders in forwarding accessibility, inclusion, and equity.