01 Aug

#ADA30 Artist Spotlights – Weeks 3 & 4

The end of July marks the end of most official celebrations of the 30th anniversary of the Americans with Disabilities Act, but that doesn't mean we need to stop lifting up disabled creators in the arts and culture field! Check out the list below to see all of the artists we featured in the last two weeks of July as part of our #ADA30 Artist Spotlight series, and stay tuned on our Instagram, Facebook, and Twitter for more artist spotlights in the future.
Lily Lipman (she/her)

"I'm an actor and I act because telling stories that may be different from your audience's experience can be a tool for empathy. When a character is compelling and multilayered, that's when an audience starts to become invested in their circumstance and I have the ability to make that shift happen. I'm equally happy being in a Shakespeare show, performing in a new work, being in a film, or a reading, I just want to collaborate with other artists. If you have a project for a short, hardworking, hearing disabled, enthusiastic woman please reach out!"
Follow Lily on Instagram at @lily_lipman.
Melanie Waldman (she/her)

"Hi there! My name is Melanie. I'm a 29 year old actor, filmmaker & yoga teacher. l am a right-arm amputee and I was diagnosed with having lupus in 2013. Over the past 3 years I began volunteering with the amputee coalition, as a camp counselor for "Amp Camp". I've been the camp's official yoga teacher for the past 2 summers. Being in a place that is full of campers and counselors alike who are just like me feels equally as incredible as it is an indescribable experience!
I've definitely been leaning into my disability pride this month as I've just completed my very first mini-documentary about my story about acquiring my disabilities, over the past 7 years of my life. I'm grateful that its premiere will coincide with celebrating 30 years of the Americans with Disabilities act. I feel like it's the perfect time for me to be really able to open up to a much broader audience about my story, than I think I ever have before.
Becoming disabled is something that can happen to anyone at any point in their lifetime, so while I "came into this world at 22" I don't think I would ever expect or want my life to ever go "back to normal" in my life, again! Be on the lookout for my short autobiographical film, titled "Being A.C.-een", to premiere later this month on YouTube, Facebook, and more!"
Follow Melanie on Instagram at @whereswaldman.
Bree Klauser (she/her)

"As an artist with an invisible disability (I'm low vision/legally blind as well as preliminarily diagnosed with ADHD) it is my goal to not only provide accurate and authentic representation for people with disabilities in all forms of media but also break boundaries and stereotypes of these roles. I also don't want to be limited to just telling stories of people who are low vision because, just like anyone with a disability, my visual impairment and neuro-diversity are not the only things that define me.
Music has always been my first love and I spent many years of my life devoting time to my music project Bree and the Whatevers. I hope that music will become part of my future as well. I feel my voice is my most expressive asset. I am proud to be lending it to the disabled community as well as other marginalized groups."
You can find Bree starring in the new Audible Original Series "Phreaks" launching this July, and you can see her on the AppleTV+ series SEE alongside Jason Momoa and Alfre Woodard. Follow Bree on Instagram at @bree_klauser_official!
Robert Latchman (he/him)

Robert Latchman (b. 1976) is a Trinidadian born artist living and working in Brooklyn, New York. Latchman uses a variety of materials to capture the personality of his environment. In his current work, Latchman is primarily focused on representations of the Brooklyn Bridge, a structure that he describes as "snapping together" against "different tones of color and texture." Through each representation, Latchman imbues his personality into the canvas. As playful hues brush against the boats and people surrounding the bridge—subjects of his earlier works—the images serve as a representation of both Latchman's present life and the history on which it was built.
To see more of his work, follow @landgallery on Instagram.
Ryan Seslow

"I'm an artist, a graphic designer, front end web designer, and a professor of digital art & design living and working in New York City. I'm Deaf & Hard of Hearing, I write a lot about it here – https://bit.ly/2Ar9wZq. As a visual artist I'm often working with a synthesis of applied arts, new media, digital and Internet-art. I like to show my work both on and off the web. I share a lot of my current projects, exhibitions and collaborations on the blog section of my website. (ryanseslow.com)
As a professor of Digital Art & Design I teach various hybrid studio art, digital art, graphic design, new media, digital storytelling, communication technology & web design courses for graduate and undergraduate level programs simultaneously in NYC between CUNY York College & the Borough of Manhattan Community College, NYIT, The Graduate School of Technology at Touro College, & Iona College. I completed my 15th year of teaching this past spring semester of 2020. As a graphic designer, front end web designer and illustrator I offer various design services to help you and your business. I specialize in working with new small and medium sized businesses, as well as one on one with individuals. I'm passionate about helping you create a presence and identity here on the web."
Follow Ryan on Instagram at @ryanseslow, and on Twitter at @ryanseslow.
Michelle Hammer (she/her)
Michelle Hammer is a Schizophrenia Activist and created and founded the company Schizophrenic.NYC. She is an NYC native and was featured in the WebMD documentary Voices, which was nominated for a Tribeca X Award at the Tribeca Film Festival 2018. Michelle has also been featured in Mashable, The Daily Mail, Stylist, and Buzzfeed to name a few. Michelle was diagnosed with Schizophrenia at 22, after a misdiagnosis of Bipolar at age 18. At 27, Michelle decided to use her artistic talents, and fearless personality to do something that could benefit the mental health community. In May 2015, she founded the company Schizophrenic.NYC, which is a clothing line with the mission of reducing stigma by starting conversations about mental health.
From Michelle: "I like to show people what is going on in my head through the form of artwork."
Follow Michelle on Instagram at @schizophrenic.nyc.
Theresa Sareo

"I am a singer/songwriter/actor/film-maker/traumasurvivor/amputee/author/humanitarian and motivational performer who is passionate about sharing my (and other's) personal story through music and art to help teach, heal and inspire others and our world!"
For more, visit www.theresasareo.com.
David Friedman (he/him)

"As a child, I was constantly drawing and painting. I dreamed of becoming a cartoon animator for the Walt Disney Studios. Time passed, and my path in life changed, but I never lost my passion for creating art and design. ​ My philosophy for my graphic design is that design must communicate in a way that motivates and inspires the viewer. In today's world, design must be innovative, and cut through the "noise" to make sure that the message is received. It is this type of design that I am able to create using my extensive experience in Adobe InDesign, Illustrator, and Photoshop. My big dream would be to have my work featured in a gallery and/or show. I'd also love to be able to make a living from creating art."
Follow David on Instagram at @disabledfoodie and on Twitter at @disabledfoodie. You can also check out his graphic design portfolio here and his "Near & Far" paintings here.
Patricia Kalidonis (she/her)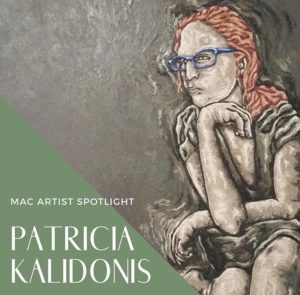 "I paint using abstracted, layered imagery as a way to express my lived experience as a woman on the Autism Spectrum. Heightened sensitivity to sensory input creates a cacophonous world. And while many others think in some form of language-based monologue, my thoughts are instead a continuous stream of images. Overlapping, colorful images in my work attempt to imitate my thought processes and sensorial experiences. Though I have always held a deep desire to be connected to others, most of my life has been defined by alternating states of comfortable solitude and painful loneliness. While many autistic people often feel anxiety around the elusiveness of social relationships, many of us also cherish time spent alone. Though this dichotomy may be common among autistic people, the interplay between loneliness and solitude reaches far beyond those on the spectrum. I thrive on solitude – however, I've also learned the importance of community through many failed social interactions, friendships, and family relationships. Social connections keep us afloat in times of hardship and grounded in the world beyond ourselves – loving others and being loved is essential to maintaining our humanness. I am keen to examine subjects such as social connectedness, family bonds, isolation, and solitude from an autistic perspective, but with the hopes that it speaks to many."
Follow Patricia at @patriciakalidonis on Instagram, and check out her work online at www.patriciakalidonis.com and www.sociallydistantart.com.