18 Jul

#ADA30 Artist Spotlights – Week 2 Roundup

July 26, 2020 marks the 30th anniversary of the passing of the Americans with Disabilities Act (ADA), which granted civil rights to people with disabilities across the United States. To celebrate this historic milestone, MAC will be featuring a different disabled artist on our social media (Instagram, Twitter, and Facebook) every day throughout the month of July! Check this blog every Saturday for a roundup of all the artists we have featured in the past week.
Ben Dworken (he/him)

"Being an artist with autism is in my blood, and it did not come out of choice as it is how I was born. I have worked tirelessly to achieve my goals of being an actor and playwright. I have networked with several theatre companies in NYC, and have taken on a role as Brand Ambassador of Actionplay, one of the top neuro-diverse production companies in NYC. My hopes and dreams for the future are to continue to work with these companies to ensure that their programming is accessible to all individuals, both neuro-diverse and neuro-typical, and to hopefully run a community of my own."
Follow Ben on Instagram at @bennydpic or on Facebook at Ben Dworken!
Margaret Chase (she/her)

Medium: Interdisciplinary: theatre artist, playwright, performer
"I am captivated by the human impulse toward transcendence, and how that quest affects behavior. I love the rogues' gallery of humanity, and I am drawn to understand what drives people to give themselves over to a vision. Imagining and portraying women's lives compels me. Environments that push the individual to break through, from strange dystopias to sumptuous dreamscapes, intrigue me. I am curious about transgressors. History and its ghosts – and contemporary currents — pull at me, as do the mystery and persistence of artistic expression. I love the raw, cunning, mesmeric power of language. The willingness to be vulnerable and to take risks attracts me, and unexpected theatrical combinations in physicality, voice, characterization, and interaction. I love to collaborate with diverse artists and art forms. Our country's legacy and practices of division and racial and gender injustice toward BIPOC and PWD are finally catapulting us into inexorable change. Artists with disabilities have a critical role to play in this process, especially amid a pandemic that has upended customary formats of content, presentation, and the experiences of makers and audiences. I am committed to creating theatre that matters. I have long been engaged with civil rights, women's and LGBTQ rights, and disability rights."
I was diagnosed as a young adult with permanent, bi-lateral sensorineural hearing loss, and I've traveled a circuitous journey to "owning" my disability. On the left, my hearing loss is severe to profound. On the right, it is moderate to severe. I rely on a cochlear implant and a hearing aid. I have become engrossed in disability art and aesthetics, and now incorporate my experiences with hearing loss into my artistic practice."
For more, visit https://www.sociallydistantart.com/margaret-chase.
Nathan Rubenstein (he/him)

Nathan Rubinstein's approach to his drawings of New York City and political figures have very detailed depictions in them. Mr. Rubinstein has been practicing drawing his whole life, but it was not until 2018 that he started exhibiting his work. He likes to draw both Random People and political figures, often dialogue is featured in his pieces. Office Building at Night (2019) is Mr. Rubinstein's favorite. He loves the detail within the image and how realistic his depiction is. His preferred medium is black ink, his pen collection is ever expanding.
To view more of his work, visit: www.ahrcslpnathan.wixsite.com/nathanrubinsteinsart.
Jayson Valles (he/him)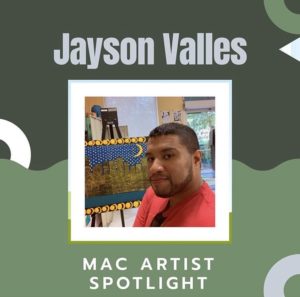 Jayson Valles has been painting since he was five years old. Born in Fajardo, Puerto Rico, Valles moved to The Bronx at a young age. In the past, he was featured in the Outsider Art Fair and has participated in many gallery shows throughout the city. "I love sketching, painting and digital art. Pablo Picasso, Diego Rivera and Frida Kahlo inspire me. I wake up to prints of Don Quixote in my house everyday." Valles' favorite subjects for painting are portraits, landscapes and patterns. He enjoys exploring different parts of the city which are then often depicted in his work. His love for Puerto Rico and admiration for Frida Kahlo come across in the rich earthy palette and beach landscapes. Valles' paintings are heavily layered with paint and every bit of the canvas is treated with his amazing attention to detail.
Follow Jayson on Instagram at @jaysonvalles and Twitter at @jaysonvalles! Check out his website at http://jv31684.wix.com/jaysonvalles.
Johnny Link (he/him)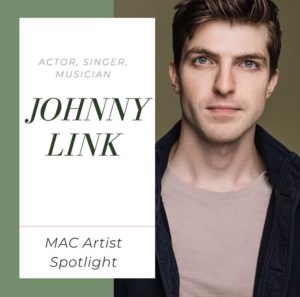 Johnny Link is an actor, singer, dancer, and musician. With a BFA in Musical Theatre from Penn State University, he has since continued to work on a variety of projects including the National Tour of R&H's Cinderella and NBC's Zoey's Extraordinary Playlist.
"Because I have accommodated to a hearing world, most people don't realize that I happen to have moderate to severe sensorineural hearing loss in both ears. I have used hearing aids since the age of 3. Like the overwhelming majority of hard of hearing/deaf children, I was mainstreamed. My experience drives me to tell inclusive stories that ignite curiosity and empathy in the individual so that they may find belonging."
Follow Johnny on Instagram at @johnnyvlink and visit his website www.johnnylink.net.