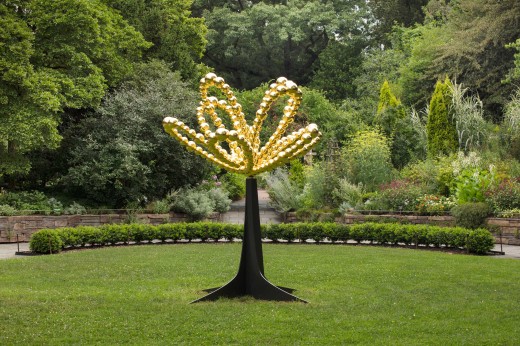 The Flowers of Hypnosis
Verbal Description Tour of Gold Rose and Fragrance Garden
September 8, 2023 |11 a.m.–12:30 p.m.
This program is specially designed for visitors who are blind or partially sighted.
Meet French artist Jean-Michel Othoniel at the Fragrance Garden, where he has installed Gold Rose, one of a new series of six large sculptures at Brooklyn Botanic Garden. His passion for gardens inspired him to create new works—in gold leaf and stainless steel—for three iconic outdoor spaces.
Meet the artist, who will discuss the

Gold Rose

sculpture, his background, and his inspirations.
Tour with our Garden Guides, who are trained to verbally describe the history, structure, and horticultural display of the Fragrance Garden and engage visitors with plant materials to touch and smell.
The tour is free, but space is limited, so registration is required. Contact Joanne D'Auria at jdauria@bbg.org.
SUPPORT
Jean-Michel Othoniel: The Flowers of Hypnosis is sponsored by DIOR as part of its Cultural Gardens initiative.